FLEXIBLE AUTOMATION FOR FOOD INDUSTRY
ARS develops robotic lines for food industry. ARS systems work reliably even in high speed production lines. ARS special grippers can manipulate lasagna, meat, crumbed product, frozen food, plastic bags or rigid and semi-rigid containers.


ARS team provides consulting services for software applications development, our technicians provides highly qualified software support for the development of complex packaging applications. Through simulation software, final performances can be tested in advance with great accuracy, reducing set up and installation time and costs.
INSPECTION AND METROLOGY FOR FOOD INDUSTRY
Ars provides high speed inspection systems based on X-ray technology.
Nowadays food packaging industry uses simultaneously several inspection systems, such as metal detector, checkweighter and vision systems. Plastics inclusions, glass, paper, insects, can not be detected by traditional inspection systems; furthermore weight variations can indicate lack or abundance of product but they cannot detect inclusions.
X-Ray technology overcomes all problems without affecting food properties: thanks to low level of radiation, organic food may be subject to X-ray inspection without any loss of its biological status.
X-Ray systems can perform analysis on aluminates flow pack: temperature and humidity variations (of both the products and its potential contaminants) don't affect accuracy and sensitivity of detection, nor do variations in size, shape or location within the packaging.
X-Ray inspection systems can perform analysis on both packaged and unpackaged products, on rigid packs, including containers made of glass, metal and ceramic, plastic, cardboard, but also on bags and tubes.
X-Ray technology guarantees HACCP compliance.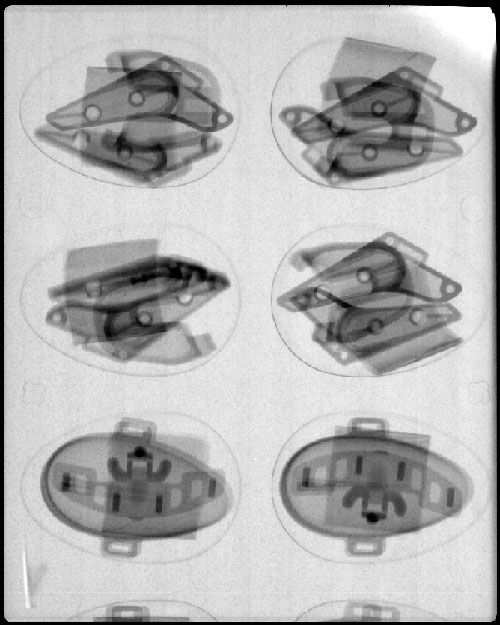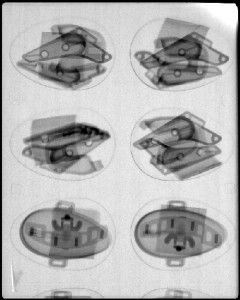 The picture shows X-Ray inspection of plastic components inside chocolate eggs. X-ray allows to verify all components presence inside the surprise.