Robotic solution, Integrated vision systems, Robot guide and Special grippers.


INSPECTION AND METROLOGY
Vision systems and X-ray inspection systems for dimensional control, inclusions and internal defects detection.

2D X-RAY INSPECTION SYSTEMS
3D X-RAY INSPECTION SYSTEMS
Aiming at ensuring innovative and flexible solutions for industrial automation, ARS team combines its experience with latest innovations, proposing technologically advanced solutions. ARS Automation believes in innovation and offers always studied and designed solutions to meet customer requirements.
ARS offers highly skilled support for robot integration and line performances simulation, avoiding any risks and waste of time.
Designed on customer needs, ARS systems include assembly solution for automotive and aerospace industries but also food packaging solution based on robotics. See more applications.
Flexible solutions

for industrial automation and Non-Destructive Testing



We have been working for more than twenty years in Italy and abroad in the supply of robotic systems, artificial vision, and control systems.
ARS specializes in flexible solutions for precision assembly and packaging.
Thanks to the experience in the world of robotics and flexible feeding, ARS has developed Flexibowl®, a flexible feeding systems that replaces vibratory bowl feeders.
Flexibowl® easily integrates with any industrial robot, scara robot or 5-axis, and vision system and benefits from a simple and reliable construction and a low noise level. As a flexible assembly system it can work even with delicate parts such as membranes, cosmetic and medical components, electronics parts.
ARS solutions are designed for cosmetic and medical fields, automotive and electronics components markets.
ARS develops flexible packaging systems for the food industry.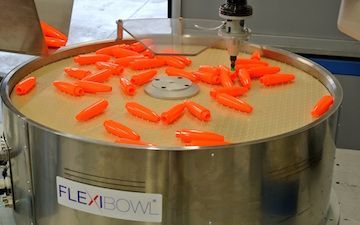 Flexibowl® is the innovative parts feeder designed by ARS that ensures high flexibility during the feeding process. Thanks to its reliability it is now replacing traditional bowl feeders.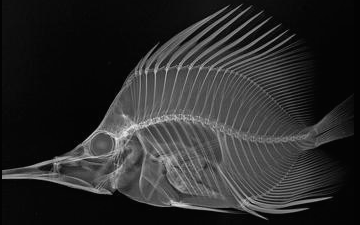 X-ray inspection typically used in food industry should not be associated to radioactivity. Scientific evidence shows X-rays used for inspection do not alterate food. The radiation levels are so low that organic food may be subject to X-ray inspection without any loss of its biological status.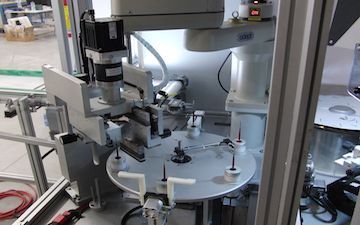 Precision Assembly
Robotics has been proven to be particulary suitable for assembly operations, ensuring high flexibility, repeatability and efficiency even in the most complex operations. Ars provides consultancy services to support complex operations development…