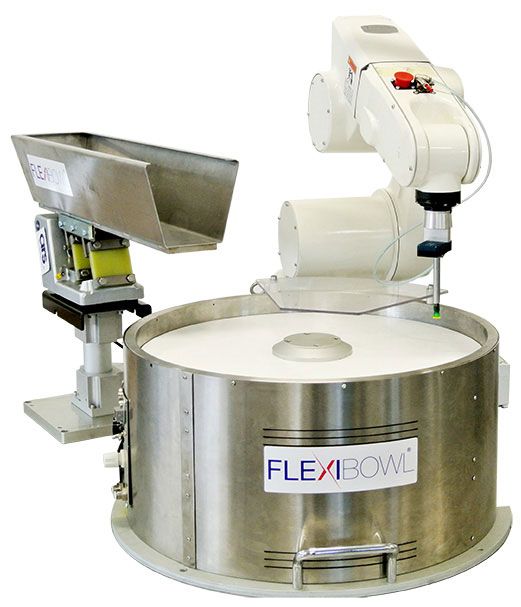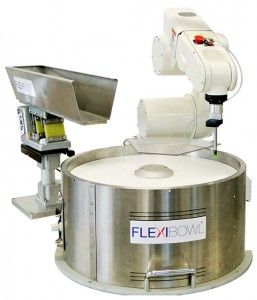 Industrial robot and vision systems have undergone a remarkable evolution in costs and performances.
Flexibowl® is an innovative flexible feeder developed by ARS that allows to enhance robots potential, enabling rapid changeovers.
Flexibowl® can be integrated with any robot and vision system and it ensures high flexibility during assembling and feeding processes. Flexibowl® feeds parts in a continuous and efficient way thanks to its circular design that allows perfect integration with the hopper.
A user-friendly software interface allows rapid product changeovers avoiding waste of time and retooling costs.
Thanks to its compact and modular concept, Flexibowl® system is used as standard loading workcell and it can be integrated in different production preocesses.
Flexibowl® goal is to overcome inefficiency problems, typical of traditional parts feeding systems.
Flexibowl® is highly flexible and designed to feed a wide variety of parts, regardless of:
Geometry (cylindrical, complex 3d shape)
Surface (smooth, sticky, tangled, etc.)
Material (delicate, fragile, rubber and silicone)
Weight and dimensions (metal moulded and sheared parts)
Parts can be fed in continuos movement, i.e. circular tracking for a higher production rate.
Flexibowl® performances can be quickly verified in advance through preliminary tests. Our technical department offers remote control and web support.
Quick integration of Flexibowl®: FlexiVision
FlexiVision is a PC based vision software package that can be optionally supplied with FlexiBowl systems.
FlexiVision is compatible with a large variety of industrial robots and the main purpose is to allow the deployment of flexible feeding cells in a very simple and straithforward way. The main tasks offered by the system include:
● Dynamic control of all FlexiBowl functionalities (acceleration, speed, flip, move forward backward commands)
● Camera calibration
● Template definition
● Object acquisition
● Robot Pick&Place sequences
Thanks to this product, randomly oriented parts can be easily dumped on the feeder surface, separated, recognised and picked-up by the robot with the highest accuracy.
FlexiVision is based on Halcon powerfull vision library, and foresees the possibility to add customised sequences to introduce inspection functionalities on the application.
FlexiVision provides a simplified programming environment to make integration of FlexiBowl systems easy and with guaranteed results.
FlexiVision is developed and mantained by ARS automation.